Remarkable hygroscopic properties
Whether dry, mixed or oily, every skin can be subjected to dehydration, characterized by a lack of water. Tightness, lack of suppleness, loss of volume, lines and wrinkles then appear.
In order to respond specifically to the needs of dehydrated skin, the use of molecules with substantial hygroscopic potential provides an effective and long-lasting cutaneous hydration. To this end, SILAB got interested in APG: using a novel approach combining molecular modeling and Raman microspectroscopy, the company has for the first time shown the highly hygroscopic capacity of APG, giving APIOSKIN® its intrinsic ability to take up and retain water in the skin.
A hydrating and plumping effect
Beyond these properties, APIOSKIN® activates the biological levers of cutaneous hydration (aquaporins, osmolyte transporter, natural moisturizing factor).
Tested in vivo at 3% in Caucasian and Asian volunteers, the active ingredient thus provides a flash and long-lasting hydration to dehydrated skin, superficially and in depth (from the stratum corneum to the upper dermis). The skin is thus beautified as of 21 days of application: dehydration lines are smoothed, facial volumes are redefined, and complexion radiance is revived. 100% of the Caucasian volunteers reported that their skin was more hydrated, softer, more comfortable, and more luminous.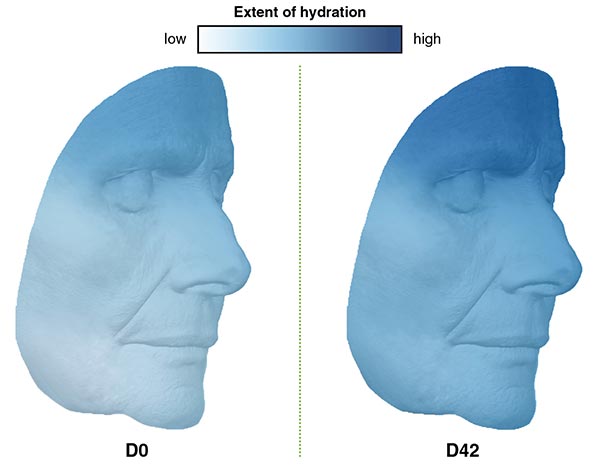 Giant duckweed, a source of rare and original molecules: APG
Among the different species of giant duckweed, Spirodela polyrhiza stands out by its plant cell wall rich in APG, a unique pectin giving it its capacity to bind water This aquatic plant has been used for millennials in traditional Chinese medicine for its benefits on the metabolism of water.
The giant duckweed is obtained from a traceable and secure supply, in line with the company's practices. The species Spirodela polyrhiza was authenticated using the molecular barcoding technique. In addition, the mastery of enzymatic hydrolysis has led to a purified fraction of APIOSKIN®, enriched to more than 50% in apiogalacturonans.
A true hydration concentrate, APIOSKIN® is a patented active ingredient recommended in all plumping skin care products at a dose of 0.5 to 3%. Available in aqueous solution, it is easy to formulate. It complies with biodiversity regulations and has a natural origin content of 99.2% (ISO 16128). It complies with international cosmetic regulations (Europe, United States, China, Japan, etc.).
Documentation available on the product page (login to the reserved area required).