Segmentation of the dermis
Another vision of the dermis
Segmentation of the dermis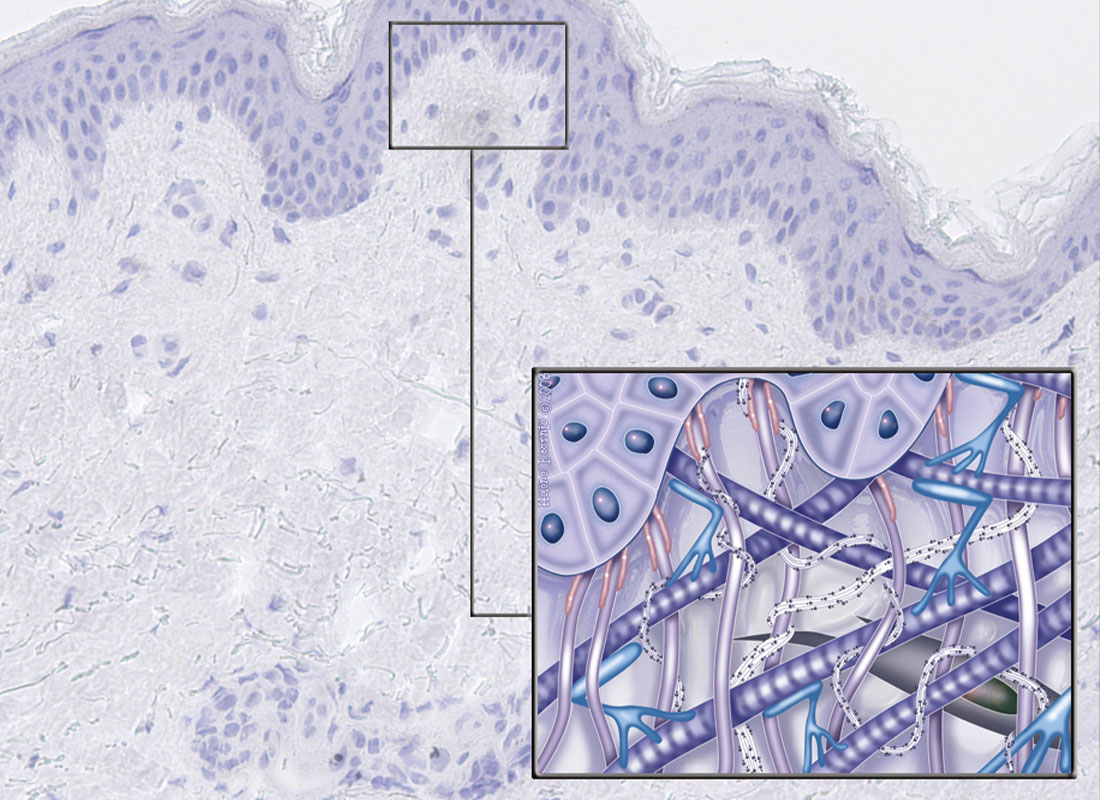 PAPILLARY DERMIS AND RETICULAR DERMIS
The upper dermis of the skin called the papillary dermis, and the deepest called the reticular dermis, are structurally and functionally different. This segmentation results from fibroblasts, cells responsible for the synthesis of the extracellular matrix.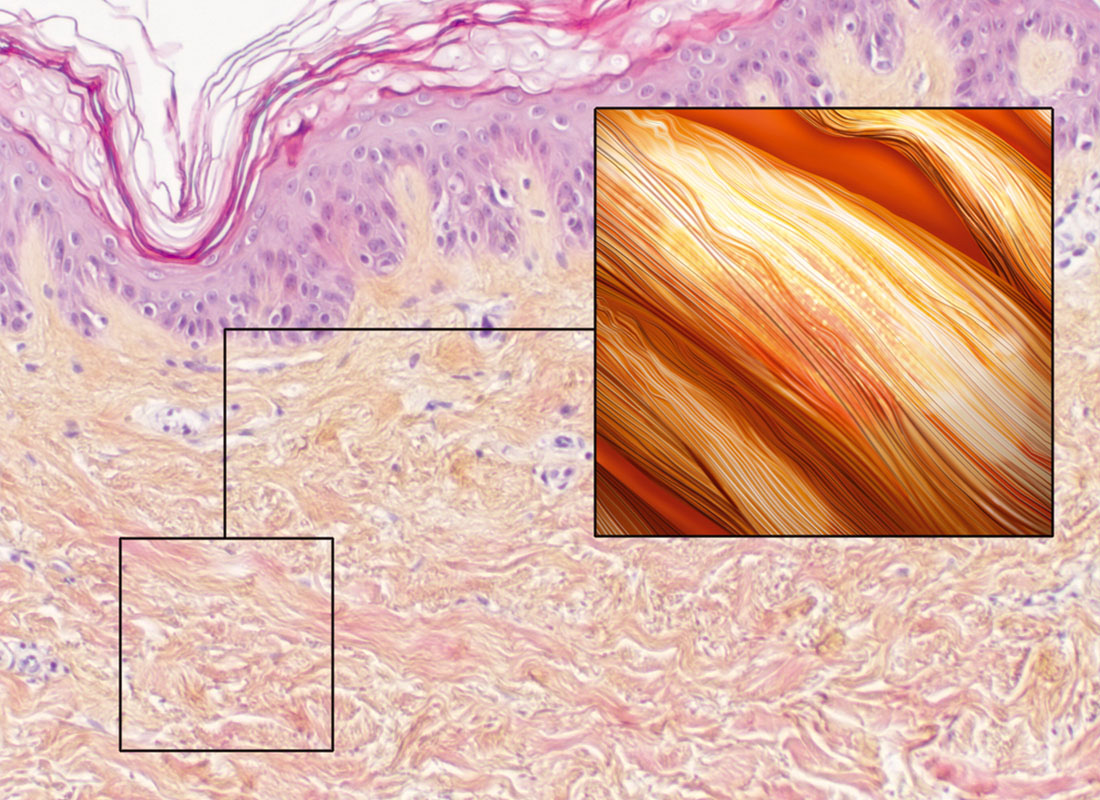 A MAJOR SCIENTIFIC DISCOVERY APPLIED TO SKIN AGING
As early as 2007, SILAB began studying segmentation of the dermis and its aging in order to develop two novel anti-aging strategies: PAPILACTYL D®, the only natural active ingredient on the cosmetics market that responds to the targeted needs of the papillary dermis to combat the effects of aging; RETILACTYL D®, a firming natural active ingredient that corrects the effects of photo-aging on the reticular dermis.
THE DETAILED STUDY OF THE MATRISOME
SILAB has augmented its already considerable expertise by examining the matrisome, the set of genes coding for proteins of the extracellular matrix and associated proteins. This work has shown for the first time that the signature of specific gene expression of papillary and reticular fibroblasts is linked to the matrisome. These results were published in 2017 in the prestigious Journal of Investigative Dermatology. The scientific discoveries of SILAB on segmentation of the dermis have resulted in 3 patents and 9 international communications.
Boudier et al., Matrix proteins of the papillary dermis - primary targets of intrinsic dermal aging? IFSCC Magazine, 11, 3, 2008
Boudier D. Le derme papillaire : première cible du vieillissement dermique intrinsèque, SFC podium presentation, 2008
Ruggiero F., Sorrel JM., Grässel S. The Papillary Dermis : Primary site of the intrinsic dermal aging, SILAB's days podium presentation, 2008
Boudier et al., The papillary dermis: the first target of the chronological dermal aging, HPCI podium presentation, 2008
Boudier et al., Matricial proteins of the papillary dermis, new targets of intrinsic cutaneous aging?, IFSCC scientific poster, 2008
Boudier et al., Papillary dermis: a new biological target of the intrinsic cutaneous aging, SCC Annual Scientific Meeting podium presentation, 2010
Boudier et al., Papillary vs. Reticular fibroblasts: from the transcriptional analysis to the function, IFSCC podium presentation, 2010
Boudier et al., Human papillary and reticular dermis: two distinct compartments with two distinct sub-populations of fibroblasts, SFBMEC podium presentation, 2014
Nauroy et al., Human dermal fibroblast sub-populations display distinct gene signatures related to cell behaviors and matrisome. JID, doi:10.1016/j.jid.2017.03.028
Boudier et al., Fibroblastos papilares versus reticulares: del analisis transcripcional a la función, Cosmetica, 23, 3, 39-46, 2012.
SELECTION OF ACTIVE INGREDIENTS
This expertise is at the origin of the development of innovative natural active ingredients that provide the skin with multiple cosmetic benefits.