Bio-sourced, bio-inspired, or biomimetic, at SILAB, each active ingredient begins its history with a natural raw material. The company draws its innovation and inspiration from nature and biodiversity. Therefore, SILAB works with top specialists to define the most suitable sustainable strategies in order to protect biodiversity and reduce its overall carbon footprint. In this context, SILAB participates in the Nature 2050 program of CDC Biodiversité, which aims to adapt territories to climate change and improve their biodiversity by 2050.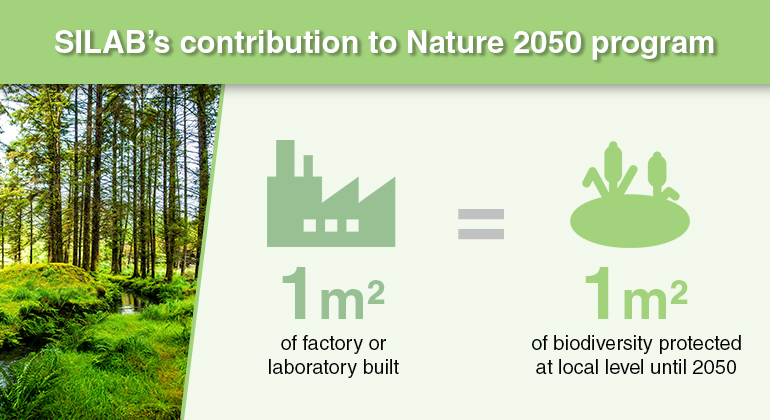 A financial contribution related to the development of SILAB
In 2017, SILAB renewed its totally voluntary commitment in this program, adding an extra protection area of 1,700 m2 to the 1,300 m2 already protected in 2016, lasting up to 2050. This is the equivalent of the surface area constructed by SILAB (factory or laboratory) in the same period.
Erasing ponds, a solution for the environment
Erasing a pond may be necessary to restore the ecosystems of some environments. Indeed, a pond that is not used or that does not comply with regulations such as its construction, its equipment's upgrading to standards or its maintenance can significantly impact the natural aquatic environment. These dysfunctions have harmful consequences including a warming of river temperature, a blockage of sediments or a break in continuity for fish migration.
Through the Nature 2050 program, SILAB contributes to the erasure of a first pond located less than 60 km from its site, in Saint-Pierre-de-Frugie, and thus participates in its territory preservation, the Nouvelle-Aquitaine region.